The Ministry of Finance on April 22 decided on an increase of 20 percent for domestic airfare routes, citing depreciation of the dong and the fuel price hike as reasons.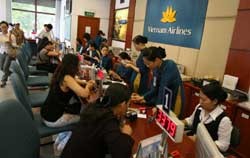 Clients buy airline tickets at Vietnam Airlines headquarters in Ha Noi. Ceiling fares on domestic routes may increase by 20 per cent due to the depreciation of the dong and fuel price hikes.(Photo:VNA)
This decision will be effective from April 27 and according to Vietnam airlines, the new fare prices will be adjusted from May 1.
A representative of Jetstar said that 90% of the ticket prices are still lower than the ceiling price set by the ministry and it would maintain and offer cheap prices to attract more passengers.
Earlier, the domestic airlines had proposed to increase ticket prices from 27-60%.
Pham Ngoc Minh, general director of Vietnam Airlines said Vietnam had incurred a loss of US$30 million on domestic routes last year.

Ta Huu Thanh, deputy general director of Jet Star Pacific Airlines, said the carrier had fixed its fares when the exchange rate stood at VND18, 465 per dollar. Now the exchange rate is VND20, 850. For Jet Star Pacific, fuel expenses cover 45 per cent of the revenue from airfares. Other expenses have also risen due to high inflation. They wanted a fare hike of 25 per cent to avoid losses, Thanh added.

Doan Quoc Viet, Chairman of Mekong Air, said fuel costs covered 50-60 per cent of revenues from airfares while the exchange rate adjustment had increased expenses by 13 -14 per cent. Mekong Air had sought a fare increase of 20 to 50%, so that it could earn 2 to 3 percent profit in order to remain operational.