The Vietnamese Ministry of Education and Training has urged schools nationwide to call upon students and pupils to vote for Ha Long Bay as one of the seven natural wonders of the world.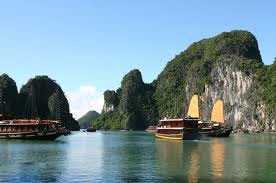 Ha Long bay
The promotional campaign is part of the summer activities for pupils and students in the country.

According to information on the website www.new7wonders.com, the Seven Natural Wonders of the World will be announced on November 11.
Ha Long Bay is the only heritage site in Vietnam to be short listed from 28 other wonders and recommended for the 7 natural wonders of the world.
People can call phone number 033.3847481 or http://www.halongbay.com.vn for further information.
Vietnamese people and foreign visitors can also go to www.natural7wonders.com to vote for Ha Long Bay.