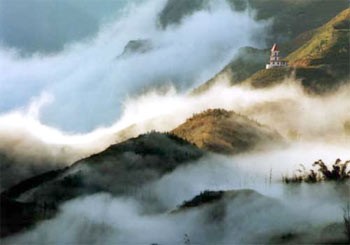 A view of Sapa
A festival opened in the misty district of Sapa on April 30 as part of the 2008 Sapa Tourism and Culture Week currently taking place in the northern mountainous province of Lao Cai.
In the misty mountainous area of Hoang Lien, the "Cloud Festival" introduced visitors to folk dances and songs which were performed in the sound of Khen, a wind instrument consisting of several small bamboo tubes, arranged close together with one end connected to a wooden sound box.
Visitors were also offered chances to participate in sports and folk games and enjoy traditional dishes.
As part of the Tourism and Culture Week, a photo and painting exhibition themed "The Color of the Highland" had earlier opened at the Sapa Tourism Information Center.
An official ceremony of the Sapa Tourism and Culture Week was organized on the same day.