Anh Duong Travel Company, one of the country's leading tour operators that mainly caters to Russian nationals, is set to increase flights from Siberia in Russia and the Far East to Cam Ranh Aiport in the central coastal province of Khanh Hoa.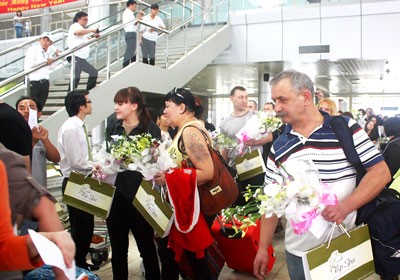 Russian visitors at Cam Ranh Airport (Photo: SGGP)
Accordingly, there will be 21 flights instead of 7-9 flights per week and Cam Ranh Airport will receive three flights bringing in 180-200 passengers a day.
Earlier, direct flights from Russia to Cam Ranh were launched in October 2011.
In related news, Etihad Airways of the United Arab Emirates has announced that the carrier will open daily direct flights from Ho Chi Minh City to Abu Dhabi in October 2013. The new service is expected to meet the increasing demand of travellers and help develop more   commercial ties with the UAE.
Etihad Airways operates flights to 87 destinations in 56 countries around the world.