The Vung Tau Beach club has just launched an assortment of exciting new water sport activities including water-skiing, windsurfing and kite surfing at the Bien Dong Tourist Area of Vung Tau.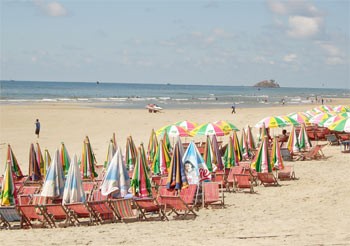 A beautiful beach in the Bien Dong tourist area (Photo: K.K)
Set in a safe, convenient location with clean beaches and perfect weather conditions, Vung Tau would give Indonesia's Bali or Thailand's Phuket a run for their money.
"Vung Tau is a suitable place for developing international water sports in order to attract local and international visitors", Ms. Sokolova Natalia, Manager of the Global Water Sport Company, said.
In the opening ceremony, thousands of people enjoyed a spectacular performance of water-skiing, windsurfing and kite surfing by Russian trainers.
Every time prestigious international water sports competitions take place, the host nations not only receive thousands of athletes, but also millions of fans.
The events are also telecast live to millions of people on leading global sport channels.
If Vung Tau were to hold competitions of that kind of stature, it would be an ideal opportunity to promote images of Vung Tau to the world, Ms. Sokolova Natalia added.
The Bien Dong Tourist Area has long offered a good variety of water sports. If you have passion for thrilling sports, don't miss out on these.