According to Vietnam National Administration of Tourism (VNAT) under the Ministry of Culture, Sports and Tourism, 664,985 international tourists arrived in Vietnam in August alone.The number is forecast to be increased in next months which are peak season of tourism sector, said VNAT.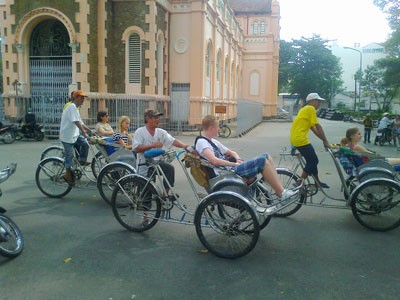 Int'l visitors make a trip around Ho Chi Minh City in Xich lo (Photo: Cat Tuong)
The figure showed an increase of 12 percent compared to last month and of 7.5 percent compared to the same period last year, said VNAT on August 26.
It is estimated that total international holidaymakers arrived in the Southeast Asian nation in 8 months this year reached 5 million a decrease of 7.5 percent compared to the same period last year.

In the first 8 months this year, the number of international visitors from South Korea, Singapore and Finland increased 32.9 percent; 15.8 percent and 12.2 percent respectively; meanwhile there has been a drop in tourists from Cambodia, Laotian, Thailand, Chinese and Hong Kong (China) with 46.8 percent; 34.1 percent; 30.3 percent; 20.4 percent and 14 percent respectively.

Meantime domestic arrivals were 45.8 million for the first 8 months this year. Tourists spent VND235,586 billion (US$10.5 billion), a hike of 2.7 percent compared to same period last year.

A happy sign is that the Southeast Asian nation receive most attention of the US and Canadian sightseers who spend much while travelling.