With a volatile situation and instability prevailing in Egypt, Russian holidaymakers have switched to spending more time in Vietnam.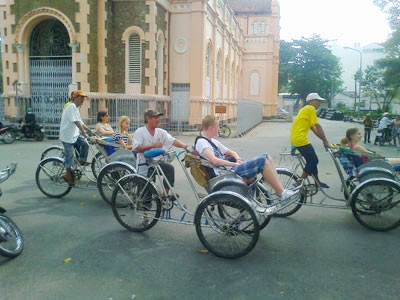 More Russian tourists arrive in Ho Chi Minh City (Photo: Cat Tuong)
As scheduled, more Russian tourists will visit Vietnam in peak season from November to April, an expected increase of 50 percent compared to the same period last year.

Hoang Thi Phong Thu, Chairwoman of Anh Duong Travel Company--a representative company of the Turkish-owned Pegas Touristik, said of the three million Russian travellers using Pegas Touristik to many countries in the world, one million go to Egypt; one million to Turkey; 500,000 to Thailand and the remaining visit Vietnam and some other countries.

Vietnam is a new tourist destination that will attract more Russian holidaymakers in future. In addition, with an ongoing political crisis in Egypt, more Russians will switch to the Southeast Asian nation, said Thu.

Moreover, there will be more chartered flights from Russia to Vietnam in addition to old flights. These are scheduled from November, 2013 to April, 2014, with an average of 72 flights carrying 18,000 Russians a month to Vietnam.

In addition to familiar destinations such as the central province of Phan Thiet, Ninh Thuan, Nha Trang, Da Nang, Hoi An, the Anh Duong Company is trying to introduce Russian holidaymakers to Phu Quoc Island in the Southern province of Kien Giang.

Andrey Smirnov from Anh Duong Company, who has worked in the tourism sector for many years, said a holiday for the Russian people lasts from 10-14 days with an average spending of around US$100 per day.

Russian people can stay for 15 days as per Vietnamese regulations; and if the country allows an extension of the stay, many Russian people will stay more than three weeks, Andrey Smirnov said.

In 2012, the country welcomed more than 174, 280 Russian holidaymakers, a 71 percent increase year-on-year.
In the first eight months of 2013, 189,317 Russian tourists arrived in the country, an increase of 63 percent as against the same period last year. This year, Vietnam expects to have 250,000 Russian holidaymakers.

Nguyen Quoc Hung, Deputy Director of Vietnam National Administration of Tourism, said Russia is an emerging market and among the top ten tourism generating markets for Vietnam. To attract more Russian travelers, the tourism sector should lure more tourist firms in Russia.