Howard Limbert, who is leader of the British Cave Research Association on June 22 announced the discovery of 57 new caves in the central province of Quảng Bình, home of Son Doong Cave, the world's largest cave.
                                              Hoa Huong cave

The new caves are located in 14 different areas in remote mountainous districts, Bo Trach and Minh Hoa in Quang Binh Province, stretching more than 20km.

The new discoveries include largest caves, such as  Hoa Huong cave measured some 2,876 meters long; 2,519m-long Tien cave; 1,500m-long Bom cave; 1,430m-long Dinh 1 cave; 1,360m-long Ruc Ma Rinh 2 cave; 850m-long Cay Sanh cave.

Caves have many underground rivers flowing through inside them and giant sinkholes, known as dolines. Scientists have also discovered spectacular stalactites and stalagmites and never-before-seen plant species.

Experts from the British Cave Research Association have carried out 17 trips in Quang Binh Province's Phong Nha Ke Bang National Park since 1990. They discovered nearly 200km of 311 caves in the province.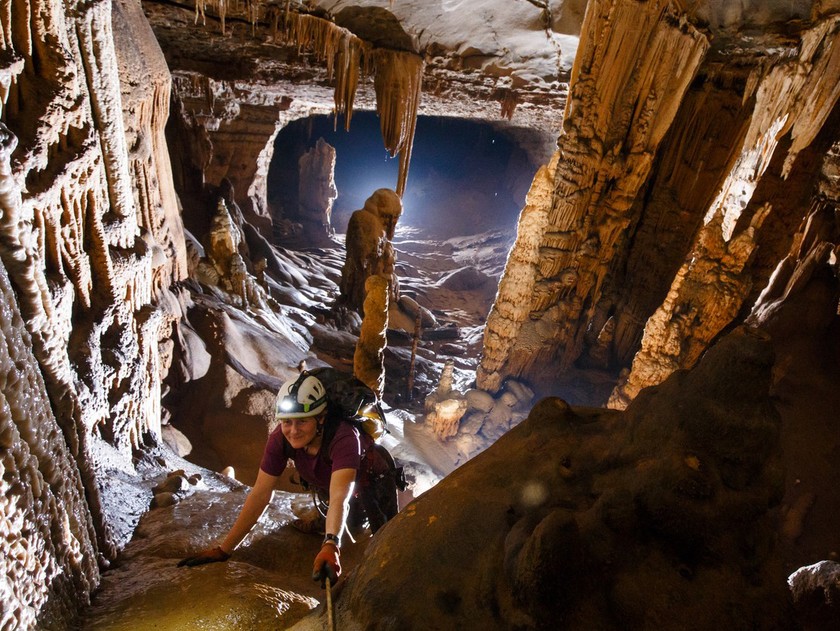 Bang cave
Son Doong cave located in Quang Binh Province's Phong Nha Ke Bang National Park that was recognized as a world natural heritage site by UNESCO. Its largest chamber is more than 5km long, 200 m high and 150m wide.

The American Business Insider Magazine has recognized Son Doong cave system in the province as one of the world's 12 most impressive.

The Russian version of National Geographic Magazine said the tour to Son Doong was a top adventurous tour for 2014.

The world's largest cave has been also listed as one of the famous places in the world, which will become "hotspots" for visitors over the next two decades by The Huffington Post. The American online news aggregators and blogs described Son Doong cave as an interesting destination for a 7-day tour with discovery of underground rivers, caves and camping activities.
According to regulations of the People's Committee of Quang Binh province and British experts, Son Doong will not receive adventurers in the last months of the year for its environment protection and biodiversity conservation as well as giving porters and guides a chance to have a break.

Quang Binh authorities have permitted Oxalis to operate the most expensive tour in Vietnam to explore the world's largest cave Son Doong.

The five day and four night tour costs US$3,000 a person. Each tour has a maximum of 10 visitors, totaling a maximum of 500 tourists for the entire year. The adventure tour operator has offered a payment of VND8 billion to the Phong Nha – Ke Bang National Park for environmental protection.