This tourism project is considered as a major project in the western mountainous district of Quang Nam Province, located at A So Hamlet, Ma Cooih Commune in Dong Giang District, covering an area of 120 hectares, lodging 100,000 guests annually.

Earlier, vice chairman of the People's Committee of Quang Nam Province Tran Van Tan signed Decision 295/QD-UBND to approve detailed site planning of the Dong Giang Sky Gate Ecotourism.
The ecotourism destination will be divided into four main zones, including supporting services – technical infrastructure, reception and parking lot – square; and supplement items, such as ticket booths, souvenir shops, gazeboes, covered walkways, sightseeing tower, restrooms and waste and waste water treatment.
The second zone's main function is ecotourism which includes gazeboes, sightseeing tower, restaurants, covered bridge, rescue house, auditorium and operating house.
The third zone which includes ancient city architectural area, cable car station, restaurants, sightseeing tower, covered walkways, gazeboes and exhibition house is the place for cultural tourism activities.
The fourth zone includes hotel, restaurants, sightseeing tower, cable car station and indoor playground.
Representative of FVG Group said that some of the items will be put into operation by the end of this year. At first, many people thought that choosing Dong Giang District for tourism investment would be risky. However, investor had thoroughly conducted survey before deciding to invest and develop the project in ecotourism direction.
Ms. Nguyen Thi Phuong Nhung, deputy CEO of FVG, said that FVG pledged to protect the ecological environment when investing in the Dong Giang Sky Gate Ecotourism. It will try to preserve natural environment and minimize impacts on nature.
The company has also started training for laborers who are ethnic minority of Co Tu as it also promised to train and make the best use of local human resource.
Mr. Ho Quang Minh, vice chairman of the People's Committee of Dong Giang District, said that the project directly affects to 63 households in A So Hamlet, Ma Cooih Commune. The Government is currently making compensation for them. Some households have agreed to receive compensation with a total of more than VND15 billion for stage 1.
According to him, the district's income will increase thanks to this project. Compensation will help local residents to build new houses as well as change their livelihoods.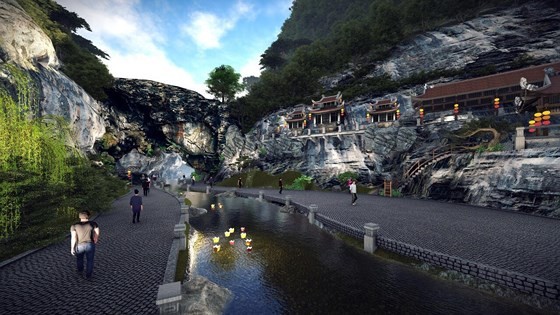 3D perspective of the project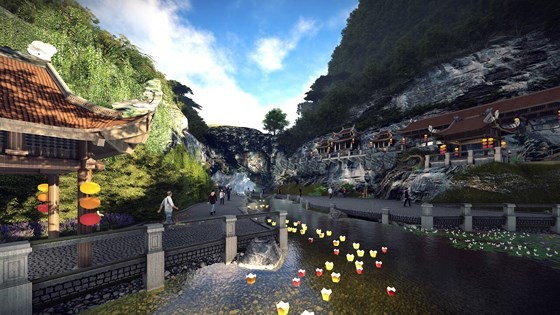 3D perspective of the project