The Ho Chi Minh Museum ( Nha Rong Harbor)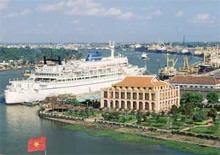 photo:SGGP
Nha Rong Harbor or the Ho Chi Minh Museum is situated on the estuary of Sai Gon river. It was here that President Ho Chi Minh boarded a ship in 1911 to start his long journey of national salvation. Nha Rong was built in 1862 as a representative office of the French Maritime Transport Company. In 1979 the Ho Chi Minh City People's Committee decided to convert it to "Ho Chi Minh Museum". It was a place where many of pictures and personal belongings related to president Ho Chi Minh's revolutionary life are displayed.
Address: 01. Nguyen Tat Thanh st. District 04.
Museum of Vietnamese History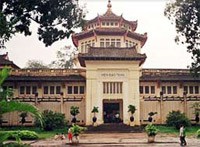 photo:Tuong Chau
It was the place to display vestiges about the history of Vietnam's antiquities (about 300,000 years ago) and those about the characteristics of southern Viet Nam, such as Oc Eo culture of the Mekong Delta, Champ's art, etc. You could also see there more about the primitive periods of Viet Nam, from King Hung's Dynasty (centuries I-X), to Ly Dynasty (XI-XIII), Tran Dynasty (XIII-XIV), Le Dynasty (XV-XVII), Tay Son Dynasty (XVIII-early XIX), and Nguyen Dynasty (XIX- mid XX).
Address : 02 Nguyen Binh Khiem st. District 1. ( just inside the zoo)
War Remnants Museum

War Remnants Museum is known as the place for displaying war crimes of the US Imperialists and their puppet Government in Southern Viet Nam before 1975. The museum displays a lot of photographs which show the American soldiers killing and torturing Vietnamese civilians, jars of deformed fetuses under the effects of poisonous chemicals (dioxin), the relics of airplanes, tanks, cannons, guillotine and copies of the "tiger cages" in Con Dao prison.
Address : 28 Vo Van Tan st, District 3
Fine Arts Museum of Ho Chi Minh City

The Fine Arts Museum of Ho Chi Minh City was established in 1987.It was originally the house of Uncle Hoa, a rich Chinese man who traded waste materials, built with three stories which house works of Vietnamese and foreign artists as well as those made several centuries ago.
Address: 97A Pho Duc Chinh st, District 1

The Museum of Ho Chi Minh City

It was built in 1885 and completed in 1890. It used to be the head office of the Provisional Administrative Committee of southern Viet Nam. In 1978, it became the Revolutionary Museum of Ho Chi Minh City. And in 1999, the museum was given the name "The Museum of Ho Chi Minh City" by the Ho Chi Minh City People's Committee. It house data and evidence of Ho Chi Minh City's nature and archaeology, inhabitants, foundation and development and so on. Nowadays, it is also a place where many couples came to take photographs for their wedding album.
Address : 65 Ly Tu Trong st. District 1

Southern Women Museum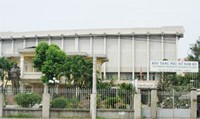 Photo: Tuong Chau
Southern Women Museum was established in 1985. It introduced:
_ Women's movement
_ The traditions of Vietnamese women.
_The southern women's struggle during the periods of resistance wars against the French colonialists and the US imperialists
_ Southern Vietnamese women's costumes and jewels
_ Southern Vietnamese women in their family life, at work and in cultural activities.
Address : 202 Vo Thi Sau st, District 3
The Ho Chi Minh City People's Committee Building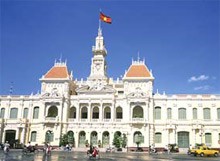 Photo: Tuong Chau
It is located on Le Thanh Ton street, at the end of Nguyen Hue boulevard. This building was built in 1898 and completed in 1908. Its construction was based on a French architect's design. It was originally called the Hotel de Ville and now this City Hall is recognized as the Ho Chi Minh City People's Committee Building. The statue of Uncle Ho in the front is a very familiar image to all the city people.
Address: 86 Le Thanh Ton st, District 1.