Tourism contributes around five percent to the country's gross domestic product (GDP), but the industry is lagging far behind in this field and has hardly invested soundly in it to make any significant difference.
Ton That Hoa, general secretary of the Ho Chi Minh City Tourism Association, said the country does not even have a theater where Vietnamese artists can perform traditional music programs for foreign tourists. All other Asian countries have at least a 1000 seat capacity theater for musical programs to entertain foreign visitors.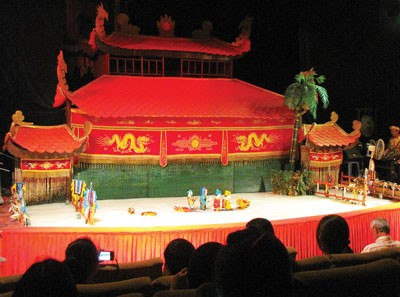 Artists' performance the water puppetry show for foreign tourists (Photo: SGGP)
A theater is not only a place to introduce a country's culture, history and people to foreign visitors but also helps promote tourisms. Hence, musical programs are considered mandatory by all travel agents on tourism itineraries.
Run by private individuals or enterprises, tickets for such musical programs cost upto US$50 or more per person. For instance, Thailand has a musical program called 'Siam Niramit' featuring the history of the Thai Kingdom, which has hundreds of artists participating.
Vietnam's tourist companies said they dare not dream of a theater like Thailand. The fact is that Vietnam currently cannot even hold a candle to its neighbor country Cambodia, proving the country is really lagging behind. Despite being a fledgling tourism industry, Cambodia has adopted a long-term strategy to properly develop this sector.
Welcoming just half the number of visitors compared to Vietnam, Cambodia invited a foreign director to create a traditional musical program called 'Smile of Angkor' which is as brilliant as Thailand's program.
Moreover, Cambodia has implemented a policy to not increase ticket prices, so as to attract more visitors. Hence, more visitors are going to Cambodia at this time when the entire world is reeling under an economic downturn.
According to the Cambodian Ministry of Tourism, in the first three quarters of the year, the country welcomed more than 2.57 million international visitors, a year-on-year increase of 25 percent. Ironically, Vietnam recorded 579,000 visitors in first nine months, a mere year-on-year increase of 13 percent.
Nguyen Van My, director of Lua Viet travel agency, said just looking at what Cambodia has done, Vietnamese travel agents feel impatient as it is very clear that Cambodia's tourism strategies have changed drastically although it has only one world heritage site while Vietnam has so many more. Vietnam's tourism industry is lagging behind other countries in the Asian region.
My said travel agents are quite capable of setting up theaters like Thailand and Cambodia but they still hesitate as they want better investment and preferential loan policies.
The one bright spot is the Rong Vang (Golden Dragon) Water Puppetry show which is gradually gaining popularity, holding three performances a day. Most audiences of this show are Japanese as they enjoy this unique Vietnamese art form. However, the hall for the water puppetry show is very small with capacity to seat only 200 tourists.
This art form is just one of hundreds of other very unique art forms in the country.