The Ministry of Culture, Sports and Tourism has announced that so far they have received about 700,000 votes supporting Ha Long Bay as one of the seven natural wonders of the world, via text messages.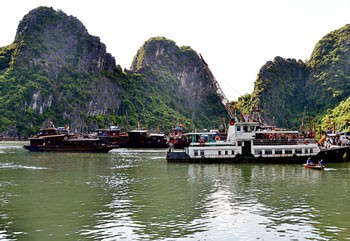 The magnificent beauty of Ha Long Bay (Photo: Sggp)
A promotional campaign has been launched in many universities and colleges in cities and provinces throughout the country. Activities highlighting the spectacular beauty of Ha Long Bay are being held in Vinh University, Nghe An University, Hue Science University, Da Lat Yersin University, Ho Chi Minh City Polytechnic University, Hanoi Tourism College and some universities in Hai Phong.
All Vietnamese citizens are being encouraged to send text messages to phone number 147 to vote for the world heritage site. The cost of an SMS is only VND630. Time is running out and the more votes collected for Ha Long Bay, the better.

According to information on website www.new7wonders.com, the Seven Natural Wonders of the World will be announced on 11th November this year.
Vietnamese citizens as well as foreign visitors can go on website www.new7wonders.com to vote for Ha Long Bay. For further information, pls call phone number 033.3847481 or visit http://www.halongbay.com.vn.