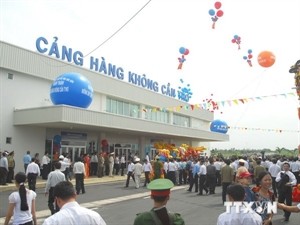 Can Tho Airport
The launch of an air route connecting the Mekong Delta city of Can Tho and the central city of Da Nang in the next few days is believed to help the two cities boost tourism and investment cooperation.
At a July 16 press briefing on the launch scheduled for July 22, Chairman of the Can Tho People's Committee Le Hung Dung said his city and Da Nang pledge a one-year sponsorship for private airline VietJet Air and relevant companies to operate the route.
The localities have also asked the firms to ensure the flight schedule and the best possible services for passengers, he added.
The number of travellers between both cities is predicted to reach 10,000 a year.
VietJet Air will operate three round flights a week on Tuesday, Thursday and Saturday on the route.