The Kien Giang provincial People's Committee, Vietnam Airlines, and the Vinpearl Joint Stock Company announced that two air routes connecting Phu Quoc island district in southern province of Kien Giang with Singapore and Siem Riep of Cambodia will be officially launched in November.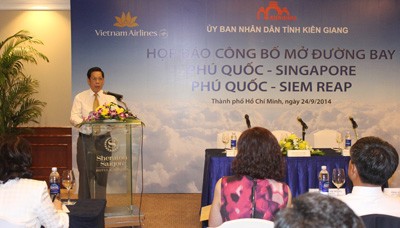 The launching ceremony on new air routes, Phu Quoc-Singapore and Phu Quoc-SiemRiep (Photo: Sggp)
The Phu Quoc- Singapore route will be operational with two weekly flights using Airbus A321 aircraft starting on November 2.

The Phu Quoc-Siem Reap service will be started thrice a week by ATR-72 planes from December 18.

The country's national flag carrier said it will launch more international routes from Phu Quoc to other destinations in Southeast Asia, to promote the "Five countries, one destination" tourism campaign.
Le Van Thi, Chairman of the Kien Giang's People's Committee, said that Phu Quoc has currently more than 3,000 hotel rooms and many other tourism projects that is expected to put into operation soon.

On this occasion, Vietnam Airlines is offering a promotional program on these routes. As if, a return ticket for Phu Quoc-SiemRiep route will be US$63; Phu Quoc-Singapore will cost US$18.

The special rates will be applicable for flights departing from September 26-December 31.