The Vietnam Railway Corporation has just announced that it will set new ticket fares for Thong Nhat trains.

Tickets will range from VND 440,000 for a hard chair on TN1 and TN2 trains, to VND 995,000 for a twin-block soft sleeper on the SE3 and SE4 express trains.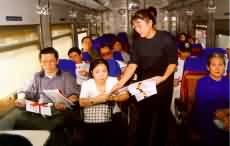 Passengers in a Thong Nhat train
As of May 21, meals will on the SE5 and SE6 trains will be optional.

The Corporation also announced that from June 1 to October 31, a discount of 10% will be offered to students traveling to big cities to write university or college entrance examinations.

Each student can also buy a discounted ticket for an accompanying relative. An identity card, together with a student card or Examination notice, will be required to receive the discount.