A ceremony to inaugurate the Cam Ranh International Airport was held on December 12 by the Khanh Hoa Province People's Committee and the Central Airports Corporation.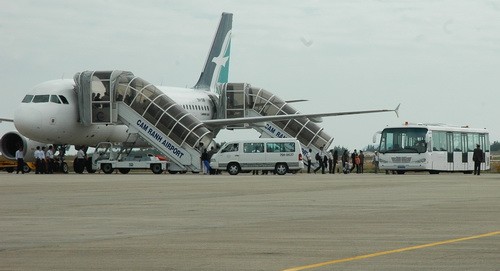 A SilkAir plane lands at the Cam Ranh International Airport on Dec. 12 (Photo: Tuoi Tre)
Deputy Prime Minister Hoang Trung Hai attended the event, which also saw the airport welcome its first international flight from Singapore.

Construction on Cam Ranh airport's new international terminal began in 2007, located on 24,000 square meters with total investment of VND300 billion. 

The domestic terminal can receive up to 600 passengers per hour while the new international terminal can receive 200 passengers per hour.

Russian carrier Vladivostok will begin operating routes from Russia to Cam Ranh International in February, 2010.

Located around 1,280 kilometers south of Hanoi and 450 kilometers north of Ho Chi Minh City, Khanh Hoa Province has a coastline of more than 385 kilometers, 100 kilometers of which are white sand beaches.

Nha Trang, the heart of the province, is a member of the Club of the Most Beautiful Bays of the World and attracts scores of tourists each year.