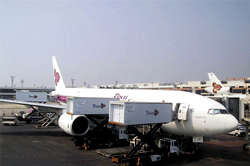 Don Muang Airport
Caretaker Transport Minister Pongsak Raktapongpaisal confirmed that Bangkok's new Suvarnabhumi Airport would be opened for commercial services before the high season would begin in October.

He said the ministry would attempt to have the airport opened prior to October when a large number of tourists would arrive in Thailand because it is the high season.

In that period, a number of flights will increase significantly to making it difficult to manage the new airport.

It must take some time for the airport to accommodate the large number of passengers.

Mr. Pongsak said the airport's commercial services would take place along with the ''soft opening'' ceremony for the transfer of flight operation services from the Don Muang Airport to the Suvarnabhumi Airport.

The grand opening ceremony of the airport could be officially set when the high season ends, the minister added.
(Source: BKP)