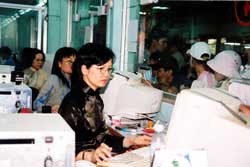 Tickets are sold at the Sai Gon Railway Station.
Two more rail lines from Ho Chi Minh City to Phan Thiet and Nha Trang will be operated for tourism purposes, said the Sai Gon Railway Transport Company.
The train lines are expected to come into operation in early April 2006.
Accordingly, trains working on the Ho Chi Minh City - Phan Thiet route will depart at 7 AM from the Sai Gon Railway Station or at 2:30 PM at the Phan Thiet Station. Two other stations on the route are Long Khanh and Muong Man.
Also, trains working on Ho Chi Minh City- Nha Trang route will depart in the day time.
On February 18, extra trains coded TN7 to TN20, to cope with the passenger increase on the Lunar New Year, stopped operation, announced the company.