Travel agents have launched many new tours for this holiday season. You can take helicopter tours of Vung Tau or Ha Long Bay. You can be treated to luxury in five-star accommodations on a train ride to Nha Trang. If you prefer cooler temperatures for your holiday, check out the Tea and Cultural Festival in the mountain town of Da Lat or tribal dancing in Sapa.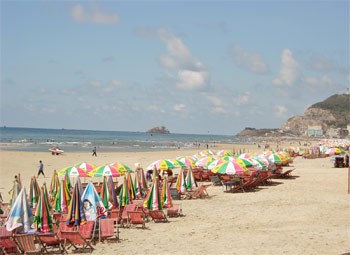 Vung Tau sea (Photo:KK)
The Fiditourist Company promises to give visitors an unforgettable holiday in a one day tour of Vung Tau starting on the morning of December 24. After warming up by enjoying the available water sports and swimming on the beach, you'll enjoy a lunch of local specialties before going on to sightsee Vung Tau by helicopter.
Meanwhile, the Saigontourist and Young Generation Travel companies are offering similar tours to Ha Long Bay for three or four day excursions. Visitors will have the opportunity to relax on a yacht to enjoy Christmas Eve or to ring in the New Year. If visitors want to venture off the yacht, there will be a helicopter waiting to show them the magnificence of Ha Long Bay from above.
Maybe helicopter tours aren't your thing. Not to worry, there are plenty of other holiday options. If you would like to be one of the first passengers to ride in one of the five-star train cars to be included on train service from Ho Chi Minh City to Nha Trang in December, you can contact Fiditourist, Saigontourist, or Vietravel companies to get more information.

The trip duration typically takes about 7 to 8 hours. The five-star cars included on the journey to Nha Trang have been equipped with deluxe accommodations suitable for even the most finicky of travelers. Once in Nha Trang there are a number of activities for visitors, including tours of this picturesque seaside city, glass bottom boat rides to view the spectacular coral, or you can stay offshore and enjoy a romantic Christmas Eve in Van Phong Island.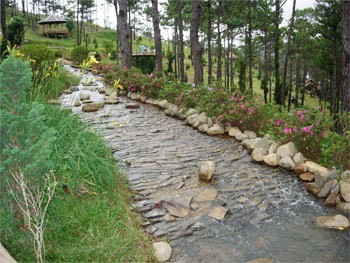 The "Golden Valley" in Da Lat City (Photo:T.H)
The Tea and Cultural Festival 2006 taking place from December 21 to 24 in Da Lat city and the town of Bao Loc will offer an opportunity to experience areas of the mountainous Lam Dong province. Besides the shopping and shows of the festival, visitors to this climactically cooler region can picnic in the Madagui tourist area, venture into the mysterious Bat Caves, or travel to the Dambri and Bopla waterfalls and nearby rose gardens.
Still, for a more mystical holiday, Ben Thanh Tourist and Nimbus Tourist companies claim that their tours offer the ideal destination, to the frequently foggy town of Sapa. Once there, visitors will be treated to the traditional dances displayed by a troupe of young female dancers from a local Thai tribe. There is also Sapa's Love Market to enchant visitors with local specialties such as apple wine.
So whether you prefer the freedom of flight, the tranquility of the sea, the cooler temperatures of the mountains, or you just want to be pampered, southern Viet Nam has many wonderful options for you to choose from to have a wonderful holiday experience. All you have to do is let one of the eager travel agencies set it up for you.