According to Ho Chi Minh City Tourism Department, there are currently more than 4,000 tourist companies in the city. Medium and small companies cooperated to do business together and develop in the increasingly competitive environment.
Recently, a lot of tourist companies has started cooperate to develop their business; for example, "Happy Holiday Tours" was created by 8 such companies as Hoan My, Rong Dong Duong (Indochinese Dragon), Tan Dai Dia, Lien Bang, TYMES Viet Nam, An Thai, Quoc Thai and Saigon Petroleum Service Company (SPSC). Another was "Travel Star", a product of 8 companies: Tan A My, Mai Linh, Fimex, Nam A, Lis Tourist, Dat Moi, Sao Viet, Airserco Tourist. The cooperation aims to share the costs of advertising, promotion and exchange of individual tourists.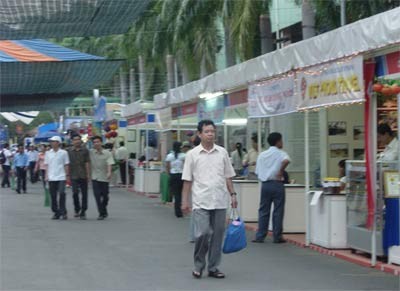 Stalls of tourist companies in the second HCMCTourism Festival organized in April, 2006 at Dam Sen Park, In these days, there were many cooperations between companies. (Photo: KK)

To ensure profits, each tour must have at least 10-15 tourists. In fact, the number of tourists who book tours at tourist companies often falls below the required number, especially long tours. So, the companies have come up with tourist pooling where clients from different companies will be grouped together to make up a sufficient number for a tour.

Besides the market expansion and pooling of individual tourists, to cope with irregular companies who trade in tourism at bad quality, the tourist companies undertake to refund 200% of the cost for late departure and 100% of the cost for poor standard service, Ms. Cao Pham Hang, director of Saigon Petroleum Service Company (SPSC), said.

On the other hand, Happy Holiday will have a shared cash fund to buy air and train tickets and book hotel rooms at the wholesale price. So the tour will be able to offer its customers a competitive price and good quality, says Mr. Nguyen The Khai, manager of Hoan My Company.
The cooperation not only reduces the cost of advertisement and marketing, but also brings about financial benefits.

Now, the cooperation of tourist companies is becoming an actual demand. However, the companies should have mutual trust in order to achieve efficient cooperations, Mr. NguyenVan My, manager of Lua Viet Tourist Company, said.