Ho Chi Minh City is now in a bustling preparation of interesting cultural activities for the Tet (lunar New Year) 2007. Nguyen Hue Flower Street, decorated and organized by Saigontourist, one of the events receiving the highest expectations of the public, will take place from February 15 to 19.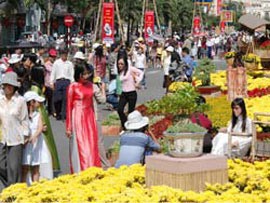 Nguyen Hue flower street
In addition, the outdoor festival presenting a Guinness pair of 3.5-ton banh tet (cylindrical glutinous rice cakes) made by the Dam Sen Cultural Park will take place in the evening on 18 February.
The cakes will be carried on a car decorated with flowers, lights and multi-colored lanterns on streets in the heart of the city. Then the cakes will be shared by all visitors.
The festival also includes a parade and musical show featuring Vietnamese traditional folk and contemporary music. The city will be lit up by thousands of colorful lights and lanterns to introduce specific atmosphere of Tet to foreign visitors.