SAN JUAN DEL SUR, Nicaragua (AP) -- I'm paddling down an estuary in a kayak that snakes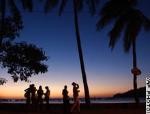 A group of tourists watch the sunset from the beach in San Juan del Sur, Nicaragua.
through a private nature reserve. A sense of serenity washes over me as a group of white herons flocks to a marsh and the thunderous crash of waves from the Pacific Ocean rumbles in the distance.
It's quiet and remote but best of all it's peaceful. Yes, peaceful.
This is, after all, Nicaragua, where revolution and civil wars raged until 1990 as the Sandinistas came to power and then were fought by U.S.-backed rebels. Unlike Costa Rica, its neighbor to the south, Nicaragua is still perceived by many U.S. citizens as a dangerous place, with little to offer travelers.
But, as my wife and I watched the birds from our kayak, the only threats we encountered were the menacing sounds from howler monkeys eyeing us from the trees above.
Today Nicaragua is finally being discovered as a destination. More than 500,000 tourists visited in 2005 -- up 15 percent from the previous year, according to tourism officials. A major tourism campaign was launched earlier this year in the U.S. and Europe, its two primary markets, using the slogan, "A Country With Heart," to stress the friendly local culture.
Nicaragua is one of the Western Hemisphere's poorest nations, with nearly half of the people earning less than $1 a day, so tourism is also a potential boon to the economy. But while the country's political and economic situation remain in flux -- presidential elections are slated for next year and more than $4 billion of the country's debt could be forgiven as part of the G-8 accord -- it is basically safe and stable.
"The real image of Nicaragua is a country that is safe and one that is rich in natural resources," said Nicaragua's tourism minister Maria Rivas. "Here you can have an authentic experience that will make your travels much richer."
Nicaragua also offers scenery and affordability. The latter probably can't be stressed enough, since the U.S. dollar doesn't go as far as it used to in Europe.
Lush hillsides
During our weeklong trip, we found that people, no matter how poor or rich, were more than happy to greet us with a smile. There was only one time when someone asked for money, and most were willing to answer our questions.
Our first stop was Managua, the nation's capital. This was more of a pit-stop before visiting other locales, but we did walk around the city, which sits next to Lake Xolotlan.
We visited the city's center, home to Plaza de la Revolucion, the county's National Museum and the tomb of Comandante Carlos Fonseca, considered the father of the Sandinista movement who was assassinated in 1976, three years before his party took control of the government. His tomb rests near the burial site of Santos Lopez, another Sandinista leader who taught guerrilla warfare.
We left early the next morning and boarded a bus bound for the coastal village of San Juan del Sur.
On the way, we watched the scenery change from a grimy cityscape to lush, green hillsides that give way to the Mombacho volcano, which boasts a cloud forest and dozens of different species of birds and reptiles.
A bit farther in the distance are the twin peaks of the Maderas and Concepcion volcanos on Ompetepe island. The majestic cones that inspired Mark Twain when he visited in 1866 rise above Lake Cocibolca (also known as Lake Nicaragua) and can be reached by all-day hikes.
We arrived in Rivas, a small town that's a bustling center of commerce with one crowded intersection full of buses, bicycles and taxis. Our foreign faces were quickly spotted in the back of the bus by locals who arranged other means of transportation for us. We were whisked away to a 1980s-era Nissan with two women and a young girl sitting in the back. We had about 20 seconds to decide whether to jump into the front of the taxi known as a collectivo or grab our luggage and find our own way. We took a chance and went along for the ride.
Escape to nature
Upon arriving in San Juan del Sur, life slows down and takes a relaxing turn. The town built on a hillside overlooks a horseshoe bay dotted with fishing boats and small yachts. Restaurants with thatched roofs line the beach, reminiscent of coastal villages in Baja California.
An infinity pool, where the water cascades over the edges, awaited us at Piedras y Olas Hotel and Resort. Here we sipped on a cocktail and marveled at the sunset, telling ourselves how lucky we were to be away from mobs of demanding tourists.
At night over dinner, we met Cathy, a former Boston schoolteacher who moved to San Juan after visiting several years ago. She warned us that the town isn't cut out for everyone.
"If you want to run around and do lots of activities, this isn't the place for you," she said. "But if you want to relax, unwind and read a good book, this is the place."

A boy repairs the cathedral bell in Granada, 29 miles south from Managua, Nicaragua.Soon after she told us that sometimes she has to take cold showers due to electrical storms, the power was knocked out and we were left with a romantic candlelight dinner.
Our next stop was Morgan's Rock, an eco-lodge just north of San Juan owned by a French couple. The area was once devastated by deforestation but is now a sprawling nature reserve replanted with more than 1.5 million trees. Monkeys, iguanas and crabs are everywhere.
The lodge's 15 bungalows are located on a hillside next to a bay so close that the waves pounding the beach are enough to rustle you from your sleep. The resort blends seamlessly into nature. Guests can plant their own trees, take a sunset kayak trip down an estuary, ride horseback or trek on guided hikes. Many of the ingredients used in the resort's dishes are grown on-site.
Our last stop was the colonial city of Granada, founded in 1524, and home to centuries-old churches and some of the most brightly colored facades in the world. Vibrant blues, reds and yellows are splashed on buildings like an artist's palette. Horse-drawn carriages still cart people around but the city is built for walking. We decided to duck into the Dona Elba cigar factory where the owner treated us to a couple of robustos and showed us a picture of him and now-California Gov. Arnold Schwarzenegger dating back to the 1980s.
Despite efforts to improve its image, Nicaragua has a ways to go before it gets the full respect of other countries. Even in nearby Costa Rica, I was unable to exchange Nicaragua's cordobas for cash. The banker looked at me and said outside of Nicaragua, the currency is worthless.
I couldn't have disagreed more. As I tucked the bills away in my pocket, I knew that they would come in handy again one day when I return.