Recently, a US$15 million-project was proposed to upgrade 3,700 m of the To Lich River (from Yen Hoa Ward to Hoa Muc Bridge) into a tourist attraction site. However, Ha Noi's authorities need to take the proposal into more serious consideration before putting it into practice.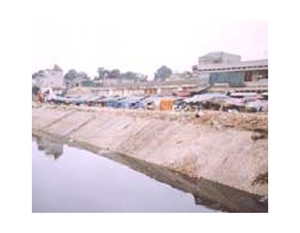 A part of To Lich River

According to the proposal, a concrete floor of 300 – 500 square meters will be made to make space for a parking lot and a public service area including a specialty market, a flower market, an outdoor stage, an amusement park, restaurants, and souvenir shops.

Mr. Nguyen Nhu Ha, President of the Board of Directors of Water and Environment Joint Stock Company, the corporation putting forward the proposal, said that once the project is completed, the urban landscape as well as the local environment will be significantly improved.

If the project is launched, it will finish in September 2010, to mark the 1000th anniversary of Thang Long - Ha Noi.

However, Mr. To Anh Tuan, Manager of the Ha Noi's Architecture Planning Department, has shown concern for the feasibility of the project. Mr. Tuan said that the To Lich river embankment is already beautiful by itself, and the concrete construction may spoil the historic landscape. Moreover, water contamination in the To Lich River will soon be resolved when Ha Noi's water sewage project is completed in 4-5 years. A concrete floor in place of the existing river may not be welcomed by the public.

Mr. Tuan added that the project should be carried out at other locations and high construction density should not be encouraged in this over-crowded area.