During the first six months of the year, Viet Nam received nearly 2.1 million international visitors including 335,000 in June, up 14.7 percent from 2006, according to the National Administration of Tourism (VNAT).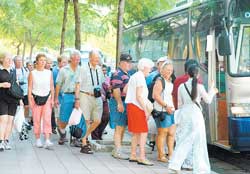 Viet Nam receives more than two million int'l visitors in the first six months of the year.
The large number is considered a good signal for the Vietnamese tourism industry. VNAT also expects that the country will welcome from 4 to 4.4 million foreign tourists this year, 400,000 – 800,000 more than in 2006.
Among the total number of visitors, more than 1,325,919 came as tourists, an increase of 124 percent over last year. Most of them were from China (275,718 visitors), South Korea (262,910), the USA (209,916) and Japan (208,192).
Top visitor markets with the strongest year-on-year growth are Russia (25,414), Italy (10,275) and Malaysia (72,127). The number of Chinese visitors, which is the largest constituency of visitors to Viet Nam, has only increased 88.6 percent over the same period last year.