According to the Ho Chi Minh City's Department of Tourism, the current modest number of international visitors to Ho Chi Minh City is only 2 million, up twofold from nearly ten years ago.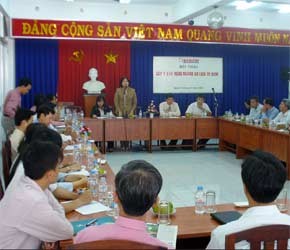 Representatives of tourist agencies in Ho Chi Minh City join the discussion on improving the city's tourism industry. (Photo:T.K)
However, Deputy Director of the Department Le Nhut Tan said the city's tourism industry should be constantly improved when over 4,000 organizations have registered to operate in tourism sector. Besides, more local universities and vocational schools have established their tourism departments.
Four major issues including the quality of tourism services, advertising campaigns, staff training programs and incentive policies needed to improve the Ho Chi Minh City's tourism were discussed in a recent forum jointly held by the city's Department of Tourism and the Sai Gon Giai Phong Newspaper.
The forum was attended by representatives of nearly 40 tourist agencies, hotels and restaurants located in Ho Chi Minh City.
While its Asian counterparts in Malaysia, Singapore and Thailand are a decade ahead in tourism development, Ho Chi Minh City is lagging far behind due to some obstacles in the advertising programs, insufficient regulations such as high taxes and inappropriate investments imposed by authorities of upper levels, said Mr. Tan.
Voicing at the conference, most participants expressed their concerns with identification of the city's unique tourist products and ways to carry out more practical strategies for the general development.
"What tourist services can be offered? The city is emerging as a new face in delivering fresh and exciting activity programs for corporate staff. So our city is no doubt rapidly gaining ground as a major destination for meeting, incentive, conference and exhibitions(MICE) groups," suggested Ly Tat Vinh, Manager of Development Department of Cholon Tourist Company.
Truong Van Mai , Deputy Director of the Viet Nam Tourism Corporation, said a pending problem of the city's tourism is that most of the local products are diversified but of poor quality or unable to meet the actual demand of international tourists. Thus, the relevant authorities should map out necessary regulations and strategies to improve the situation.
The forum gave the participants an opportunity to find out the core of the existing problems and to identify Ho Chi Minh City's position in the regional tourism industry. Besides, it also set an appropriate target of development so as to enable the city to keep up with other developed tourist cities in the region, said Mr.Tan.
Related links:
Toursim Products - Both Diversity, Quality Needed
               Trinh Quang Ham, Director of the Viet Nam Tourism Corporation
To Achieve Positive Result with Combining Efforts
               Tu Quy Thanh, Managing Director of Lien Bang Travelink