The national carrier Vietnam Airlines informed that on August 6, one passenger suffered slight injuries on his feet when their flight VN615 from Hanoi to Bangkok faced mid-air turbulence.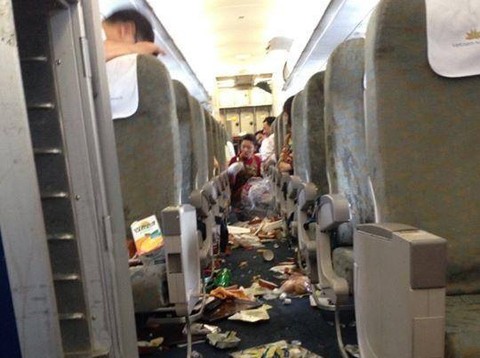 Food chaotic mess inside the VNA airplane after the incident
The incident took place on an Airbus 321 plane which departed from Hanoi at 2pm, and when the stewardesses were serving meals to passengers, the plane entered a 'clear air turbulence area' while at an altitude of 36,000 feet, (approximately 10,973 meters).
This kind of turbulence is yet undetectable by any aircraft weather radar.
As a result of this, the plane made a 400 feet (122-meter) free fall.

In the incident, out of 104 passengers and eight crew members, only one passenger suffered minor injuries on his toe and two stewardesses were in slight shock.
Despite the incident, the plane landed safely at Suvarnabhumi Airport in Bangkok at 3.40pm.
The injured passenger received timely first aid on the plane, and was able to walk out of the plane unaided.