According to the National Statistics Department, the number of international tourists to Vietnam in July reached around 565,000, a decrease of 15 percent, compared to the same period last year.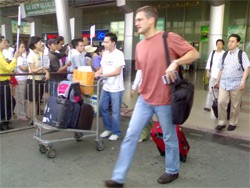 More than 565,000 foreign visitors come to Vietnam in July. (Photo: KK)
The country received more than 4.8 million visitors in the first seven months of this year.
Vietnam saw a sharp increase in tourist arrivals from countries and territories over the same period last year from the beginning of this year to date, including 1.2 million Chinese visitors, up 26 percent; the Republic of Korea with 462,000, up 5 percent; Japan with 362,500 arrivals, up 6.9 percent; and 285,200 American, up 5.9 percent.
Tourists visiting Vietnam for travel and recreation reached nearly 2.93 million, while 816,000 arrivals came to Vietnam for business purposes, and over 836,000 arrivals arrived in Vietnam to visit relatives.