The Viet Nam National Administration of Tourism (VNAT) recently took 11 foreign travel companies on the road as  precursors to setting up an overland tourist route between Viet Nam and Laos.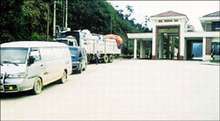 Cau Treo border gate
The route has already been decided. It goes from National Road 7 in Nghe An Province, crosses into Laos at the Nam Can border gate, then Vientiane, Xieng Khouang and Luang Prabang, back into Viet Nam via the Cau Treo border gate in Ha Tinh Province, then on to National Road 8.
The VNAT is going all-out to promote overland tourism. Since 44,462 Laotians traveled to Viet Nam by road last year, their country is viewed as a major market for Viet Nam's tourism industry.
Thailand is an even bigger source of overland travelers. The number of Thai people traveling by road to Viet Nam reached 89,357 last year, an increase of 56.7 percent on 2004.