Phong Nha- Ke Bang Cavern in Quang Binh Province and Fansipan Mountain Peak in Lao Cai Province have been added to a list of 77 candidate sites to be voted on as world natural wonders again. Phong Nha – Ke Bang were taken off the voting list about four months ago.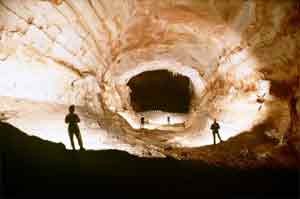 Phong Nha cave
Phong Nha – Ke Bang were added to the list Tuesday. Four months ago, the organizer, the NewOpenWorld Foundation, left the two sites off the said list, saying that the governments of Quang Binh and Lao Cai Provinces had failed to establish an official support board that could formally call on the public to vote online for the two sites.

Before the rejection, Phong Nha- Ke Bang was ranked second and Fansipan was ranked third respectively among the world's 77 most favorite wonders.
After being put on to the list again, Phong Nha – Ke Bang is now ranked 13th and Fansipan is ranked 14th.

Ha Long Bay in Quang Ninh Province, a Vietnamese site on the list which was not been subjected to the rejection, remains in third place.
In September 2009, 21 of the 77 wonders will be selected to enter a second round. The final seven will be announced in the summer of 2010.