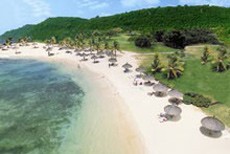 Phu Quoc Island
EU tourism experts chose Phu Quoc as a marketing model to promote the beautiful images of Vietnamese tourism industry to domestic and foreign visitors, Mr. Le Minh Hoang, Director of Tourism Department of Kien Giang province said.
Viet Nam National Administration of Tourism and European Union (EU) have jointly organized a training course "destination promotion and marketing" for 39 leaders of Tourism and Trade Departments in the country.
It is an activity under the project "Human Resources Development for the Vietnamese Tourism Industry", which is funded with US$1.4 million by EU in Phu Quoc Island, Kien Giang Province.
The experts said that Phu Quoc had great potentials for tourism development. However, the weak points are limited and unprofessional marketing campaigns.
The training of human resources has left much to be desired and there is a shortage of qualified staff with good foreign language skills.