The first Grand Mercure resort in Asia will open in Viet Nam late August 2006, the resort owner La Veranda and Accor, an international property managing group, announced at Press Conference in Ho Chi Minh City on July 19.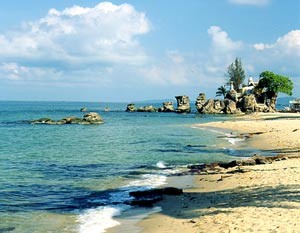 A beach on Phu Quoc Island (Photo: TC)
The Accor-managed resort is named Grand Mercure La Veranda Phu Quoc, located at Duong Dong Beach on Phu Quoc, the biggest island of Viet Nam and part of the southern province of Kien Giang.
"The first Grand Mercure resort in Asia will bring a new level of accommodation to one of region's hottest emerging beach destinations," said Mr. Patrick Basset, Accor vice president for South and Southeast Asia.
Asked by the Sai Gon Giai Phong newspaper why Phu Quoc Island has been chosen, Basset said the island remains largely undeveloped and half of it remains forested with many deserted and unspoilt beaches. Phu Quoc Airport is served by four daily flights from Ho Chi Minh City taking under an hour to reach the island.
"Phu Quoc provides good chances for adventure-loving tourists. Besides, Ho Chi Minh City offers very good accessibility to many big cities in the world by plane."
Mr. Ray Stone, Accor's senior vice president for sales and marketing in Asia-Pacific, stressed that Viet Nam has enjoyed impressive growths in the numbers of foreign visitors, and Accor is delighted with this.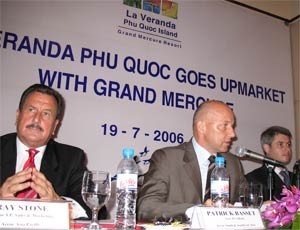 (From L) Ray Stone, Patrick Basset and Jean Pierre Gerbet meet with the media in Ho Chi Minh City to announce Grand Mercure La Veranda Phu Quoc. (Photo: Tuong Thuy)
Jean Pierre Gerbet, director of the resort, said Grand Mercure La Veranda Phu Quoc is designed as an exclusive boutique resort and spa with 43 villas on a 80-meter stretch of white sand beach facing west across the Gulf of Thailand.
He said, "Beautifully designed and inspired by colonial period architecture, La Veranda is for guests who love tropical ambience and a secluded island setting. The resort will offer two meeting rooms, swimming pool, water sports and a Kid's Club for children."
Accor's Basset said, "The launch of an international branded hotel in Phu Quoc will help elevate the island to the top of beach resorts in Asia. If offers some of the most beautiful beaches in the region, and Accor is delighted to put them on the map with our Grand Mercure brand."
"The new resort's rating will be between four-star and five-star standards. He added Accor is keen to establish an upmarket collection of Grand Mercure resorts around Asia starting with one of Viet Nam's most exciting beach destination", he added.
The Grand Mercure brand is one of the fastest-growing 4.5-5 star hotel brands in Asia.
Grand Mercure La Veranda Phu Quoc will join a network of nine Accor hotels in Viet Nam. Accor will add into the network the four-star Novotel Ha Long Bay Hotel in Ha Long Bay, one of the country's UNESCO-listed World Heritage sites, next year.