With Phu Quoc all the rage among tourists during the April 30-May 1 holidays for Liberation Day and Labor Day, hotels and service providers on the island are set to make a killing.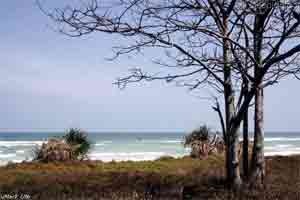 A beach in Phu Quoc (Photo: wiki.skydoor)
While tours to places like Da Nang, Nha Trang, Phan Thiet ,and Vung Tau are being offered at discounts of 15 to 30 percent, tours to Phu Quoc have become 15 to 20 percent costlier.
Phu Quoc hotels are demanding a deposit of 30 to 50 percent for rooms.
Hydrofoils from the mainland to the island were full up two months ago.
Ha Trong Diep, director of Can Tho – Vinashin Passenger Boat and Travel Company, said tour operators recently asked for hundreds of tickets but his company was unable to meet the demand.
Located in the Gulf of Thailand, the 567-square-kilometr island is 62 nautical miles (115 km) from Rach Gia and only 8.1 nautical miles (15 km) from Kampot Province of Cambodia.
It boasts breathtaking landscapes including beautiful white sandy beaches, imposing mountains and pristine forests.
An Thoi, an archipelago known for magnificent islands like Hon Dua, Hon Roi, and Hon Rom has several kilometers of coral reefs where tourists can enjoy going fishing and diving.
A three -hour motorboat trip around the archipelago plus a meal and a drink costs VND100,000 to 150,000.