Back in January, Prime Minister Nguyen Tan Dung signed Decision 01/2007/QD-TTg approving the plans for turning Phu Quoc Island off Kien Giang Province into a tourist mecca by 2020. The Decision came into effect on Monday.
Phu Quoc and nearby Nam An Thoi Peninsula will become centers of tourism and international trade because it says so in the Decision.
The first target is to build sufficient infrastructure and hotels in the island's Duong Dong, Duong To, An Thoi and Cua Can districts to accommodate up to 350,000 visitors annually by the year 2010.
Stage two's target is for Phu Quoc to have up to three million visitors annually by 2020, creating more than 50,000 jobs in the process.
Viet Nam's biggest island certainly has what it takes to lure vacationers: pristine beaches, a crystal sea, freshwater streams, an old-growth forest covering 70 percent of the island, and a diverse and delicate ecosystem, plus there are craft villages and fruit gardens in abundance.
In his Decision, the PM said developers must keep within the law and not destroy the natural environment.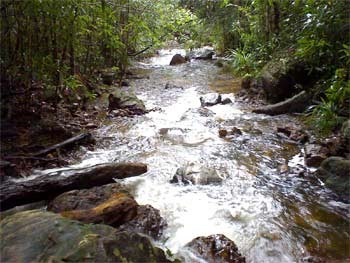 The Tranh stream on the Phu Quoc Island. (Photo:KK)
In recent times the Vietnamese government and the local authorities have introduced incentives to lure investors and tourists to Phu Quoc.

There are now more than 200 Vietnamese and foreign companies that have registered to invest in Phu Quoc, and the provincial authorities have approved 46 more projects that will take up 1,855 hectares of land.
A dozen of these are in the construction phase; their investment capital totals some VND750 billion. Work on the other projects, whose combined investment capital exceeds VND15 trillion, will begin shortly.