In order to have an overview of current state of development, their unique positions and their potentials, the Vietnamese Architect Association has held a seminar "Planning and Construction of Vietnamese Coastal Towns" in Quy Nhon City, Binh Dinh Province.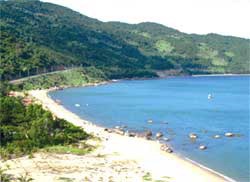 Son Tra Beach
According to architect Hoang Dao Kinh, Ph.D, our coastal towns have been located randomly; neither forming a string of vacation resorts, nor developing advantages of the seas. Thus have failed to creat unique features and brand names for themselves.

Central Viet Nam is the miniature Viet Nam with typical history, human and cultures. It has many advantageous conditions for development of tourist services and cultural centers. We must have national plan to build the coastal towns system to achieve optimal results.

The planning of coastal towns needs systematic research and analysis. Zoning of the big and small cities should depend on their own strengths to create and promote the brand names.

Besides, excessive exploitation should be avoided. Hoi An, Da Nang and Nha Trang are facing these problems.
The clustering resorts and mini hotels located along Cua Dai, are putting pressure on the ancient Streets Hoi An, an area of 10 hectares only.
Da Nang's rapid expansion to Son Tra deserted peninsula needs to be looked at again. Streets located along the seacoast in Nha Trang or Vung Tau, are being subdivided into plots for unplanned building causing serious blockage of the otherwise beautiful sea view.

Coastal towns and ports play the important roles in the development of a country. We should overcome old fashioned thoughts and have a global outlook in order to better develop potentials for them in Viet Nam.