There are abundant domestic and abroad tours available for visitors on the occasion of national holidays, say operators in Ho Chi Minh City.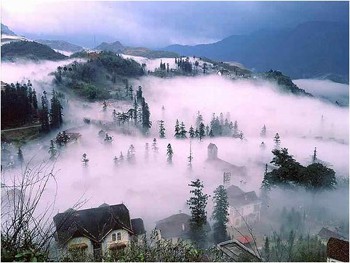 A view of Sapa town, a well-known tourist destination, in the northwestern province of Lao Cai
Normally, all of the tours were fully registered two weeks before the holidays in previous years,
Travel company Fiditour says that on the occasion of the Unification Day (April 30) and May Day, it targets to achieve a growth of 24 percent in number of tourists; however, it has reached over 20 percent so far.
The number of holiday makers has not been as high as travel companies' expectation, partly because they spent holidays on the occasion of the commemoration of Hung Kings, the legendary founders of the first Vietnamese kingdom, just one week before these events, the company said.
In related news, the national air flag carrier Vietnam Airlines revealed that it would increase an extra of 224 domestic flights to meet travel demand during the coming holidays.
The number of flights between Hanoi and HCMC will move up by 38 flights.
It would hike by 36 flights between HCMC and Da Nang and 30 between Hanoi and Da Nang.

30 between Hanoi and Da Nang.