Many tourists from Ho Chi Minh City and nearby provinces had to find accommodation in private homes in the Central Highland City of Da Lat even after the Tet season was over on February 15, as there were not enough rooms available in hotels.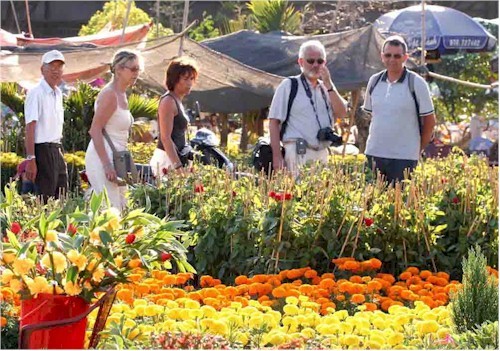 The file photo shows foreign tourists visiting Flower Festival held in Da Lat last December.
Some visitors said they had to come back to Lien Nghia Town in Duc Trong District, 30 kilometers from Da Lat City to stay in hotels there. One family who could not find accommodation decided to return to HCMC after just enjoying a special coffee of the central highland city.
On the same day, authorities in the central highland province of Lam Dong said hotels in the city were overfull with visitors; as a result they had to stay in private homes and students' boarding houses--especially opened to holidaymakers.
Initial statistics showed that the beautiful central highland city welcomed around 212,000 visitors from December 29 to the fourth day of January of Lunar Year and the figure rose to 370,000 by the eighth day.
Consequently, hotel prices increased by 50-150 percent and 30 percent of holidaymakers hired rooms in private residences and boarding houses.
On Tet this year, there was a leap in the number of tourists to view Gong Culture in Lang Bian Plateau in Lac Duong District. Pang Ting Sin group performed Gong from the second to the sixth day for more than 1,000 visitors, an increase of 10 percent compared to normal days.
On February 15, managers of Sa Ky Harbor in the central province of Quang Ngai said they deployed more express boats from Ly Son Island to transport visitors to the mainland and from Ly Son Island.
Dang Quang Son, director of Sa Ky Harbor, said express boats only stopped operations for Tet holidays from December 29 to January 3 and worked on the fourth day (February 13) when nearly 1,000 holidaymakers used the express boats, a record figure to the harbor so far.
Pham Thi Huong, deputy chairwoman of People's Committee in Ly Son Island, said five express boats were deployed and authorities had to ask residents on the island to provide shelters for visitors if hotels could not meet the requirements.
By staff writers – Translated by Uyen Phuong