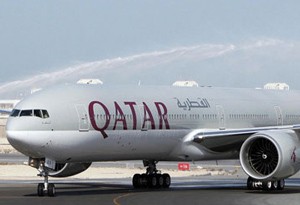 (File) Qatar Airways aircraft
Qatar Airways Monday launched a new service between Doha and Hanoi, expanding its operations in Vietnam, a fast-growing market in Asia where the Middle East airline has already been flying from Qatar's capital to Ho Chi Minh City.
An Airbus A330-300 of Qatar Airway with 250 people on board touched down at Noi Bai International Airport in the afternoon, making Hanoi its second network point in the country.
The flag carrier of Qatar operates four weekly flights between Doha and Hanoi via Thailand's Bangkok on Mondays, Tuesdays, Fridays and Saturdays,
Nov. 1 also marked the carrier's HCM City route a daily service, comprised of four direct flights from Doha and three via Bangkok.
Qatar Airways launched a third daily flight to the Thai capital on the same day.
"Our third daily flight to Bangkok will create further connectivity across our network into Thailand and also allows us to improve our services to Vietnam where we already fly to Ho Chi Minh City and look forward to adding Hanoi to our schedules," Qatar Airways Chief Executive Officer Akbar Al Baker said in an announcement on Oct. 4.
Beginning October 12, Qatar Airways operates six flights a week to Thailand's Phuket via Kuala Lumpur.
Akbar Al Baker added in the statement, "With Phuket and Hanoi coming online around the same time, Qatar Airways will soon operate to two destinations each in Vietnam and Thailand and we are thrilled to be able to offer the traveling public these exciting destinations and, with it, offer more choice."
Traveling from Doha to Hanoi on the Monday maiden flight, he is due to give a press conference in Hanoi Tuesday to talk about his corporation's Vietnam development strategy.
The travel market in Asia is experiencing significant growth, according to the International Air Transport Association (IATA).
Both Emirates and Etihad Airways, two other major Middle East airlines, are not serving Vietnam.
In March 2007, Qatar Airways launched its Doha - Ho Chi Minh City route with four non-stop direct flights.