Qatar Airways, the only carrier from the Middle East flying to Vietnam, posted an average seat occupancy rate of more than 80% in its Doha-Ho Chi Minh City service, much higher than 50% in the beginning in March 2007, according to the carrier's HCM City office.
The airline has plans to add one more flight to its current four flights per week between Doha and Ho Chi Minh City to meet increasing demand, said a Qatar Airways source.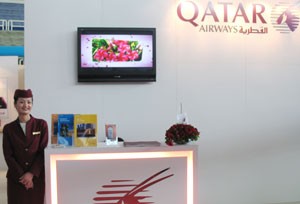 A Qatar Airways flight attendant in Vietnam (Photo: Tuong Thuy)
The Doha-based carrier operates the four flights with aircraft Airbus 330-300 on Mondays, Tuesdays, Fridays and Saturdays.
In an announcement issued in Hamburg, Germany on April 6, Qatar Airways said it has once again come up trumps at the annual Skytrax passenger survey awards scooping several accolades, including Best Economy Class in the world. The carrier also earned the title Best Airline in the Middle East for the fourth year running, while its cabin crew have again demonstrated delivering the highest levels of service by being named Best in the region for an unprecedented seventh year in a row.
Qatar Airways Chief Executive Officer Akbar Al Baker picked up the accolades during the 10th anniversary Skytrax World Airline Awards celebrations at a ceremony held in Hamburg April 6.
In related news, from June 1, Northwest Airlines of the US will operate seven flights a week with Boeing 757 linking Ho Chi Minh City and San Francisco and Los Angeles, with a transit stop in Tokyo.
In 2004, United Airlines became the first American commercial carrier to fly to Vietnam since the 1975.
The national carrier, Vietnam Airlines, also wants to fly to the US but has delayed its plans to do so several times. It is scheduled to open flights to the US next year.