The central province of Quang Binh has a lot of development potential in the tourism sector yet, some say, it should hold back and concentrate on one or two attractions to build up its own tourism trademark.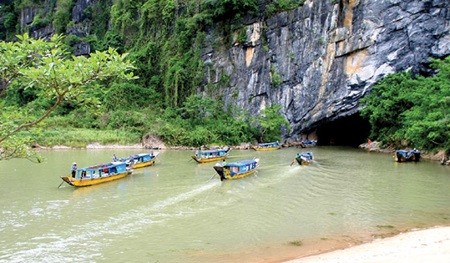 Tourists visit the Phong Nha Cave in central Quang Binh Province on boats (Photo: VNA/VNS)
At a workshop held in the capital city yesterday, it was generally agreed that the province's best feature was the cave system in the Phong Nha – Ke Bang National Park.
"Phong Nha – Ke Bang" is considered a king among caves, not only in the province in the whole country," said Nguyen Quoc Hung, deputy director of the Viet Nam National Administration of Tourism.
"Quang Binh should focus on two key products of ecological tourism (cave and sea) and then its cultural, historical and spiritual tourism," he added.
"Foreign tourists are already interested in Phong Nha-Ke Bang so if the province concentrates on the site, it could turn into an international tourism destination, like that of Ha Long Bay," he said.
"Besides distinctive tourism products, Quang Binh needs to build up more attractions for domestic and foreign tourists who seek adventure tourism," he said.
Tran Tien Dung, deputy chairman of Quang Binh People's Committee, said that the province was compiling a dossier to submit to UNESCO to recognise the Phong Nha-Ke Bang park as a World Nature Heritage site for its biological diversity value. The park was already recognized by UNESCO in 2003, earning a heritage status for its geological value.
The park's geological foundation was formed more than 400 million years ago, and hosts more than 300 small and giant caves and grottos. Internationally known caves like Son Doong, Tu Lan, Phong Nha, Thien Duong, Tien Son, En and Toi are all surrounded by primitive and diverse forests.
Dung said tourism at Phong Nha-Ke Bang attracts many tourists from overseas, especially its adventurous cave tours.
The province's authorities worked hard to diversify the way tourists experience the cave system to avoid repetitiveness and keep each site unique.
"For example, at Phong Nha and Thien Duong caves, visitors can combine trekking with kayaking," and, "At Tu Lan Cave, tourists can swim, trek and stay overnight inside the cave," Dung said.
Besides Phong Nha-Ke Bang, the province would do well to attract visitors from northeastern markets of Japan and South Korea by developing its seaside leisure tourism.
Quang Binh also boasts cultural, historical and spiritual sites for tourism such as recently developed Vung Chua – Dao Yen, the tomb of General Vo Nguyen Giap.
The province received more than 2.7 million people last year, an impressive 99.7 per cent increase over the previous year. This year, they hope for 3.3 million visitors. International tourists accounted for 60 per cent of last year's guests.
The province does have an Achilles heel, however. It has limited accommodations to offer.
"We shall promote home stay and farm stay models at local villages," said Dung for now.
The province has shopped around for investors interested in developing tourism services like building luxurious hotels, tourism agencies and transport services.
Local authorities have implemented some measures to help hotels and restaurants.
In Dong Hoi City, the capital city of the province, three, four and five star hotels received financial support to improve the running of their operations while large restaurants were given VND500,000 (US$23.5) per square metre and VND1 million ($48) to train each unskilled server.