Train fares from Hanoi to China's Nanning will be cut by 65 percent in August, said an official from Vietnam Railways
.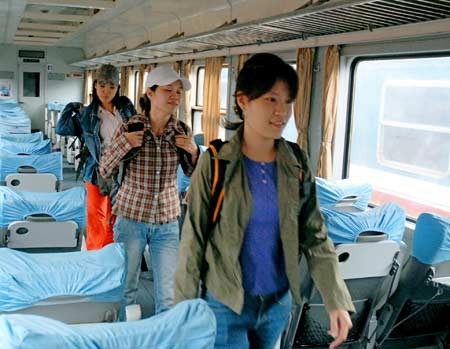 Railways will cut fare to attract more passengers on Hanoi-Nanning route. (Photo:Vnexpress)
The cost of a first class ticket will be VND540,000 (US$30), down from the original VND1.2 million ($66) fare.
The pair of trains carrying passengers on the new route from Hanoi to China's Nanning started in January.
The train, with six luxurious carriages, stops at six stations, including three in Vietnam, Gia Lam in Hanoi, Bac Giang in Bac Giang Province and Dong Dang in Lang Son province.
The new 400 kilometer long route starts at Gia Lam Station at 7pm and arrives in Nanning at 8am the next day.
The train from Nanning leaves at 5pm and arrives at Gia Lam station 4am the following morning. It takes about three hours to get through the border process.
Tickets for this route have become virtually unsellable, as the fare is expensive and it takes a lot of time to finish the entrance and exit procedure at the border.