Rough and stormy weather across several parts of Vietnam, affected by the prevailing 'Storm Talim' on the East Sea, caused delay or cancellation of 15 international and 44 domestic flights on Tuesday.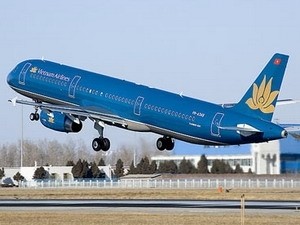 Rough weather on June 19 caused Vietnam Airlines to cancel many flights
The national flag carrier Vietnam Airlines said that of the 15 delayed international flights, 12 were those of Vietnam Airlines.
On domestic routes, strong winds and thick heavy clouds caused cancellation of 44 domestic flights on the Da Lat-Hanoi, Ho Chi Minh City, Da Nang City route from June 17-19.
According to the national weather bureau, 'Storm Talim' has moved furtherer away from Vietnam. However, it has merged with 'Storm Guchol' near the Philippines to cause bad weather over Vietnam waters.
'Storm Talim' has affected several fishing boats over the last few days. Two boats from Quang Binh Province faced difficulties with one losing contact with the mainland since June 16 and another suffering engine failure since June 17.
The border army force in the Mekong Delta province of Tra Vinh saved three people from a sunken cargo boat on Tuesday.
The Central Highlands were also affected by 'Storm Talim' which saw medium to heavy rainfall from June 16-19.
According to the regional Hydro Meteorological Center, rainfall of 50-100mm was recorded in various parts of Lam Dong and Kon Tum Provinces.
Rainfall up to 250mm in Chu Prong and Dak Doa District and 180mm in Pleiku City and An Khe town of Gia Lai Province was recorded and these heavy downpours swelled rivers and springs in the region.
Several vegetable cultivated areas were destroyed and more than   100 houses lost their roofs. The provincial People's Committee has instructed authorized organizations to help local residents repair their damaged homes and resume daily activities once again.
Related article:
Storm Talim heads towards Hong Kong