A travelling promotional tourism program, "Vietnam Show 2009," kicked off in Japan last week.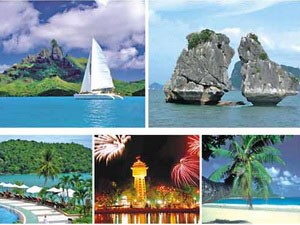 Many destinations of the country are presented in the promotional tourism program in Japan.
The program, featuring cultural activities such as a fashion show, performances of traditional music and dances, opened in Sakai City, Osaka, where the Consulate General of Vietnam was recently introduced at the beginning of September.
"Vietnam Show 2009" is one of the biggest Vietnamese promotional tourism programs in Japan, said the director of Vietnam Airlines (VNA) Representative Office in Japan, Nguyen Quoc Tuan.
The event aims to give Japanese people knowledge of the land and people of Vietnam and draw more Japanese visitors to the country.
As planned, seminars on tourism will be organized at every destination with the participation of tourist companies from the two countries. The program will give out free Vietnam guide books to visitors.

The event, co-organized by the Vietnam National Administration of Tourism (VNAT), VNA and Da Nang City, will move to Nagoya and end in Tokyo on September 18.

Together with "Vietnam Show 2009," the 2009 Hello Vietnam Festival will be organized in Yoyogi Park in Tokyo between September 19 and 20.
The festival will include a musical performance and an ao dai show, in which Vietnamese and Japanese artists and members of the Vietnamese Youth and Student Association in Japan will participate.

On the occasion, Vietnamese restaurants in Tokyo and surrounding areas will present Vietnamese specialties like pho and nem cuon (spring rolls).

The organization committee expects to attract more than 100,000 visitors to the festival.