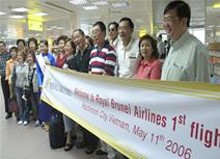 The RBA's first passengers arrived in Viet Nam
The Royal Brunei Airlines (RBA) has just opened a new route from Bandar Seri Begawan to Ho Chi Minh City. Its 1st flight of Airbus 320 with 150 passengers of tourists and businessmen landed at Tan Son Nhat International Airport on May 11, 2006.
RBA has been in operation since 1974 with a modern fleet of Boeing 767s, Airbus A319s and Airbus A320s. The airlines provide scheduled services to destinations across Asia, the Middle East, Australia and Europe.

"We foresee Ho Chi Minh City as a new shopping and sightseeing destination for Bruneian", Mr. Rozman Junaidi, Acting Head of RBA's Corporate Communications, said.

There are three weekly flights, which will depart from Ho Chi Minh City at 7am on Tuesday and 4.35pm on Thursday and Sunday.
The return flights depart from Bandar Seri Begawan at 10.10pm on Monday and 2.40pm on Thursday and Sunday. A round trip ticket costs US$211.

Vietnam is the sixth ASEAN country where RBA offers flight services. Due to the direct Ho Chi Minh City-Brunei flights, many travel agencies begin to set up tours to Brunei.