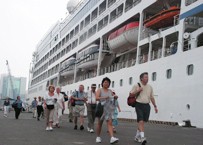 Foreign visitors arrive HCMC on a five-star cruise ship
The Saigontourist Travel Company is launching a "Cruise-Fly" tour combining air and cruise ship travel to different tourist attractions in Viet Nam, Malaysia and Singapore.
Six-day package tours will depart from the Port of Sai Gon on the five-star SuperStar Gemini cruise ship on July 5, August 9 and August 23. Tickets for the  package tours will be US$699 per person.
Eight-day tours will also be available to Hong Kong, the Philippines, Malaysia, Brunei and Singapore onboard the five-star Costa Allegra and will depart on May 5, May 19, June 2 and June 16. Prices for these tours are not yet available.
After visiting many attractions in various countries, the travelers will be flown back to HCMC.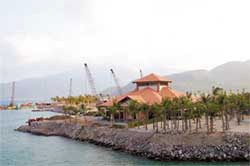 Sai Gon-Dong Ha Hotel
The leading local travel company has also joined hands with the Sai Gon – Dong Ha Tourism Joint Stock Company in the development of a four-star hotel in Quang Tri Province's Dong Ha City. Construction of the 17,845 square meter hotel, which will feature 95 rooms, a 650-seat conference room and a restaurant, began on May 1.
Capital for the VND 200 billion project was provided by the Sai Gon Beverage and Soft Drinks Corporation, the Saigon Agriculture Incorporation, the Quang Tri Rubber Company and the Binh Dien Fertilizer Company.
Saigontourist will also invest in another four-star hotel at 1 Hoang Hoa Tham Street in the City of Hue. The proposed hotel will cover 6,800 square meters and include 200 rooms, a tennis court, a conference room, a restaurant and other facilities.