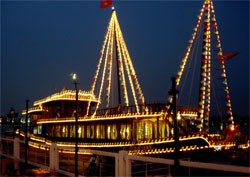 The Indochina Junk , Photo: KK
In fact, there are many one-day tours to Vam Sat Salt Marsh Forest Ecological Tourist Zone by car or canoe. But sailing there by junk is really a new idea full of fun
.
The sections of the green river
According to Mr. An Son Lam, manager of Indochina Junk Company, who set up this tour, that tourists not only take a visit to Can Gio- Vam Sat, but also enjoy the beautiful landscapes along the riversides and such historical tributary rivers as Soai Rap, Nha Be, Dong Nai and Dong Tranh bay, Saigon port, Tan Thuan Export Processing Zone, Hiep Phuoc Industrial Park-Long An Province. Tourist will be briefed on the history of the places as the junk sails past.

On the route, getting away from the hustle and bustle of Ho Chi Minh City, you will discover the natural beauty of southern Viet Nam's rivers; listen to the whistle of the wind and the lapping of the waves. Some fisherman's boats sail across sluggishly.

Most tourists are very surprised at the peaceful space and clean air here, which is not far from Ho Chi Minh City. On the deck, you will see the city from afar. Outside the windows, there are breaths of fresh air and beautiful sections of the river.

 To Vam Sat Salt Marsh Forest Ecological Tourist Zone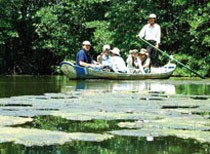 The Tourists is sailing in Vam Sat
To Vam Sat, you will see the deep green Cypress and mangrove forests spread out vastly. Tourists will take a visit to a crocodile breeding farm or they can go crab and crocodile fishing.

Changing to small canoe to go on sightseeing around Dam Doi, tourists will enjoy the beautiful natural picture of hundreds of flying foxes on the trees, the calm and deep blue water surface.
The mangrove forest encloses around the canoe. Besides, they can walk through the forest to explore local flora.

Then they will have lunch in the restaurant of the junk with typical specialities and choose favorite beverages in a small bar.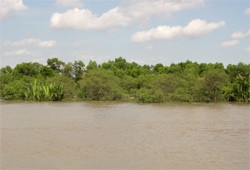 The Can Gio mangrove forest, Photo: KK
The one-day trip to Vam Sat-Can Gio is suitable for busy people who have not enough time for a long vacation.

Besides, the Indochina Junk Company has also dinner cruises which sail around Saigon River every evening.

According to Mr. Lam, in the coming time, his company will invested in bigger junk with bedrooms and all modern facilities to take tourists to the South Viet Nam for two days and over. Besides, the company will launch one-day tours to other places which is expected to attract many tourists.