A festival will be held in the resort city of Sam Son in the northern province of Thanh Hoa from April 28 to May 1 to celebrate the city's centennial.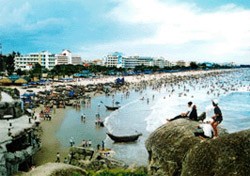 Sam Son beach
The festival will highlight the province's development and achievements and allow local and foreign investors to explore Sam Son's potential for tourism and business development.

The event will feature many interesting cultural activities, including a fireworks show, musical performances, a trade and travel expo, folk games, youth camping, banh chung (square glutinous-rice cake) and banh day (round sticky-rice cake) cake-making contests and more.

There will also be many athletic activities including a beach volleyball competition, the "Sam Son Summer 2007" tennis tournament, badminton and table tennis tournaments, and a show featuring water skiing, parasailing, and jet boating performed by professional athletes.
Sixteen km east of the city of Thanh Hoa, Sam Son is considered to be one of the most beautiful beaches in Viet Nam. With many domestic and foreign tourists visiting each year, it is a promising location for the development of tourism.