Sapa's terraced fields were recently recognized as one of the world's seven most beautiful and magnificent terraced fields by US-based Travel & Leisure magazine.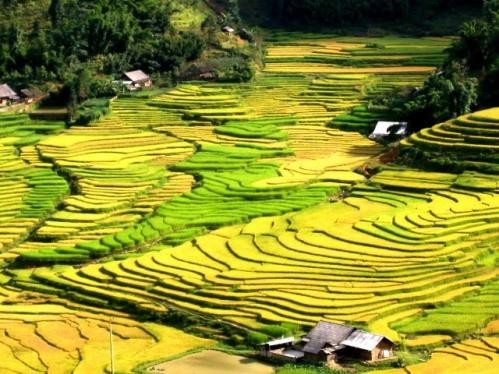 Terraced fields of Sapa in the northern province of Lao Cai are described as "ladders to the sky"
Sapa was also voted as one of Asia's seven best examples of terraced fields, with both category winners chosen by readers of the magazine.
The magazine described the terraced fields of Sapa, located in the northern province of Lao Cai, as "ladders to the sky."
It said it is one of the reasons which attract a great number of tourists, most of whom travel to the city of Lao Cai by train before going by coach to the Sapa. There, they will experience both the rice fields and the hospitality of the ethnic H'Mong and Dao, with women dressed in traditional colorful costumes and soak up the view of Mount Fansipan, the highest peak in Vietnam at 3143 meters.
Terraced fields in Sapa, owned by H'Mong, Dao and Giay people, are located in Muong Hoa valley, Lao Chai District.
This kind of terraced field is different from the fields of people in China's Yunnan Province or in the Philippines, as each ethnic group has its own farming techniques.
Dr. Tran Huu Son, Lao Cai's provincial Department of Culture, Sports and Tourism's chief, said that the department proposed that provincial authorities and the central government's Culture Ministry carry out a survey on Sapa's terraced fields, Hoang Lien national park and its ancient rock. This will then help in submitting an application to UNESCO for the area to be recognized as a world cultural heritage site.
Sapa is known for its natural beauty, fresh cool air and the unique customs of the local residents, and its "Love Market", which is held every Saturday.
Seven most magnificent terraced fields in the world as voted by Travel& Leisure: Banaue (Philippines), Yuangyang (Yunnan, China), Ubud (Bali, Indonesia), Annapurna (Nepal), Mae Rim (Chiang Mai, Thailand), Sapa (Lao Cai, Vietnam) and Long Ji (Kuei Lin, China)