A researcher wants to see Ho Chi Minh City put more effort into preserving and promoting the city's many specialized trading streets lest they fall victim to property developers and disappear.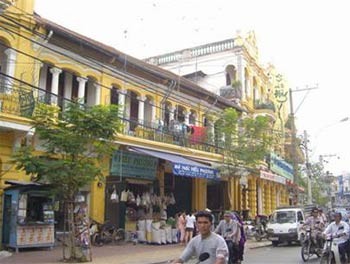 Hai Thuong Lan Ong Oriental Medicine Street in District 5
Ms. Le Tu Cam from the Urban Research and Development Center says the city authorities need to draw up a proper plan for saving streets like the antique-filled Le Cong Kieu in District 1 and the oriental medicine thoroughfare of Hai Thuong Lan Ong in District 5.
There are more than 60 antique shops along the 100-meter Le Cong Kieu Street, each of them stocked with at least a thousand objects. While most of the merchandise might be imitations, quite a few of the items are genuine antiques of great interest to the numerous foreign tourists who shop there.
Down in District 5, a walk along Hai Thuong Lan Ong Street is a journey through a world of aromatic herbs and other plants. The street is obviously the largest oriental medicine market in the city, whether wholesale or retail. Most of the shop owners are Chinese Vietnamese who pass their specialized knowledge down from generation to generation.
One problem for the authorities and local residents is that the shops in the specialized trading streets ignore many of the health and other regulations. This problem needs addressing too, Ms. Cam says in her research paper titled "Ho Chi Minh City's Specialized Trading Streets and the Urbanization Process".