The southern coastal city of Phan Thiet enjoyed a colorful opening ceremony to its local tourism festival on October 22.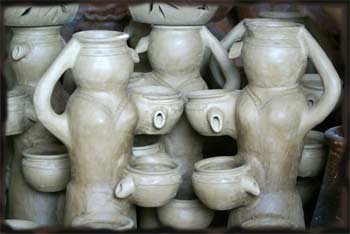 Terracotta products of the Cham ethnic minority are a highlight of the Binh Thuan Province tourism festival October 22-24
Titled "Ngay du lich Binh Thuan va Thanh Pho Phan Thiet" (Tourism Day of Binh Thuan Province and Phan Thiet City), the three-day event offers several cultural activities including a display of mid-autumn lanterns and a photo exhibit featuring sights of the city. 
A show of paintings and local handicrafts are also on hand along with a host of local specialties. 
Earlier on the same day, the city hosted a folk game called "Hoi bai choi," popular in central areas. Participants listen to a singer for a chance to win prizes, while learning about traditional culture and the lifestyles of the ancient, local fishermen. 
The festival is organized by the Binh Thuan Province Department of Culture, Sports and Tourism, and the Phan Thiet City People's Committee.