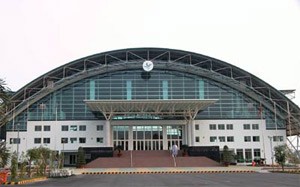 Phu Tho indoors sports stadium
The second International Travel Expo Ho Chi Minh 2006 (ITE-HCMC 2006) will take place in Phu Tho indoors sports stadium on August 4-8. The expo will be attended by 120 stalls of more than 90 domestic tourist companies, hotels, restaurants and 18 foreign enterprises in Southeast-Asia.
The expo aims to introduce destinations and tourist products of Viet Nam and other Asia-Pacific contries. It is also a place for domestic and foreign enterprises to meet and seek for business opportunities.
The organizing board will contact 120 foreign travel firms from North America, Western Europe, Northeast Asia and ASEAN to offer foreign traveling companies preferences of giving a discount of 50-70 percent of air fare, free participation in the main activities in the expo and organizing Famtrips (Familiarization trips).
Besides, "Vietnamese Destinations Marketing" forum will be also organized on August 3 to introduce Vietnamese specific tourist products to the world.